Audio volume comparisons in Bose L1 Pro range
One of the most common questions asked about the latest Bose L1 Pro systems how loud is each one compared to the others.
It's sort of logical that the L1 Pro32 is louder than the smaller L1 Pro16, which is louder than the smaller L1 Pro8.
But how much louder?  And what about that famous "throw" – how far does each L1 pro throw the sound?
Bose has kindly produced this graphic to show each model, measurable dB level over a distance (straight line).  One of the most important elements of the figures is the "intelligibility", meaning can you actually hear WHAT is coming from the speaker at a distance, vs just hearing that it's making noise, ANY noise.  In terms that mean anything to you at a wedding or in a venue, can you hear what the presenter is saying?  Can you recognise the song playing at a distance?
With intelligibility being what I would consider the most relevant measurement, you can see the Pro8 starts to be unrecognisable at approximately 10 to 12 metres, the Pro16 falls off somewhere close to 40 metres, and the Pro32 seems good at over 32 metres.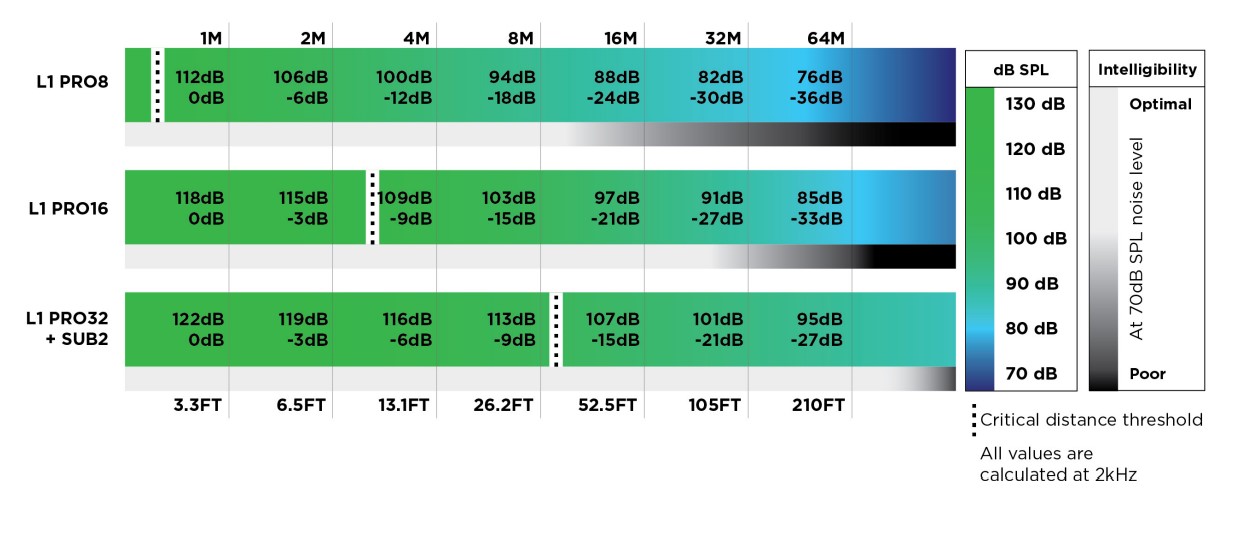 It's probably obvious to anyone familiar with the Bose L1 systems or have sued the older L1 Model 1 or 2 systems in the past.  But the L1 can seem overly complex to the uninitiated.
In short, the bigger the L1 Pro, the bigger the sound, the longer the throw, the higher the spl, and of course the higher the price.
The L1 Pro32 is a power house of sound capable of standing up against the F1 812 in that it has similar SPL, lower bass frequency, but longer throw than the F1 (hear it from further across a venue).  The smallest unit being the Pro8, which is portable, costs considerably less, yet has same effect as the bigger Pro16 or Pro32, just in much smaller rooms.
And of course if you go and add the Sub1 or Sub2 to either unit (or double up on the Pro32) then it changes things again.  Keep in mind that bass will drop off at approximately 1dB per metre, so harder to measure against the main audio from the array.
Got questions?  Want to test it out yourself at your own venue or regular, familiar event space?
If you're in Auckland, contact me to arrange a demo of the Bose L1 Pro8, L1 Pro16 or Pro32.
Nick Logan | Rich Audio